Last summer, Secretary of the Interior Ryan Zinke led an unprecedented attack on our public lands, initiating a review of national monuments all over the country in an attempt to undermine the Antiquities Act of 1906.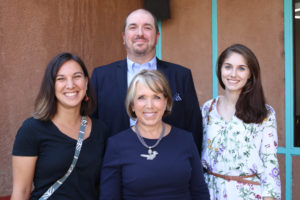 While in New Mexico, we're stuck waiting to see what the administration's proposed management changes might mean for Rio Grande del Norte and Organ Mountains-Desert Peaks National Monument, the ramifications of the national monument review are already unfolding elsewhere.
In Utah, Bears Ears and Grand Staircase-Escalante National Monuments are being dismantled, with Bears Ears shrunk by 85% and Grand Staircase-Escalante cut nearly in half. While lawsuits questioning the legality of these cuts are ongoing, the administration is already pushing through new management plans without substantive public input. New development is already being ushered in. In June, it was revealed that a Canadian copper and silver mining firm had filed a new mining claim on lands previously protected within Grand Staircase-Escalante.
Under this pressure, New Mexico's Congressional delegation has stepped up to fight back. Back in January, United States Senator Tom Udall introduced the ANTIQUITIES Act of 2018, a bill designed to protect and enhance national monuments while reinforcing the integrity of the Antiquities Act of 1906. He was joined by Senator Martin Heinrich as a cosponsor. Then in July, Congresswoman Michelle Lujan Grisham introduced a House counterpart to Senator Udall's bill, joined by Congressman Ben Ray Luján as a cosponsor.
The ANTIQUITIES Act of 2018 officially declares Congress' support for the 51 national monuments established by presidents between January 1996 and April 2017 under their authority established by the Antiquities Act of 1906. It reinforces that national monuments designated by presidential proclamation can only be altered by an act of Congress, ensuring all monuments affected by the 2017 review will not be reduced in size.
Not only would this bill protect against monument size reductions, it would increase protections for several national monuments. It would expand the boundary of Bears Ears National Monument to roughly 1.9 million acres, the original size proposed by the Bears Ears Inter-Tribal Coalition back in 2013. Here in New Mexico, the bill would designate over 249,000 acres wilderness in Rio Grande del Norte and Organ Mountains-Desert Peaks National Monuments, building on the protection of some of our state's most revered landscapes.
The New Mexico Wildlife Federation would like to thank Senators Udall and Heinrich as well as Congresswoman Michelle Lujan Grisham and Congressman Luján for their continued dedication to the protection of our state's public lands.