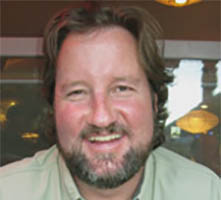 Garrett VeneKlasen
Executive Director
Garrett Vene Klasen is on leave starting January 1, 2018 through June 2018.
Garrett was born and raised in Santa Fe, New Mexico and spent his childhood hunting, fishing, camping, and exploring with his father throughout the mountains, grasslands, deserts, and wetlands of New Mexico, Colorado, and Arizona. Before becoming the Executive Director of the New Mexico Wildlife Federation, he was the SW Director of Trout Unlimited's Sportsmen's Conservation Project as well as Trout Unlimited's New Mexico Public Lands Coordinator. Garrett also founded the New Mexico Chapter of Backcountry Hunters & Anglers. Garrett is a prolific outdoor writer and photographer and at one time hosted his own outdoor television show on ESPN ("Fly Fishing America"). His writing and photography have been published in Field & Stream, Men's Journal, Gray's Sporting Journal, Fly Fisherman, High Country News, The Angling Report, and Orvis News.
A former fishing and big-game hunting outfitter and guide in both New Mexico, Colorado, and abroad, he also owned and operated an outdoor travel agency for 22 years (InterAngler, LLC) that sent clients hunting and fishing around the world (specializing in trips throughout Central and South America). Following a year abroad in Spain through Syracuse University, Garrett received a bachelor's degree from the University of New Mexico with a major in Latin American Studies and a minor in Spanish & Portuguese languages. He is fluent in both languages.