A group of 16 college students from New Mexico got an experience of a lifetime this August, as they explored, researched, and experienced the biodiversity of Southeast Tennessee during a weeklong student exchange experience sponsored in part by the New Mexico Wildlife Federation (NMWF).
The Student Wildlands Adventure Program (SWAP), originated from an idea between New Mexico U.S. Forest Service biologist Daryl Ratajczak and Cleveland State Community College professor Robert Brewer. The two biologists used to work together in Tennessee before Ratajczak moved to New Mexico to take a job working in the Santa Fe National Forest.
It turns out that NMWF was the ideal grantee to help coordinate the program, and now in it's second year, the program has proved to be a huge success.
"This is probably the most well-run and beneficial student exchange program I've seen, especially because it deals with issues directly related to conservation and the environment," said NMWF Community Relations Director Gabe Vasquez. "It was a privilege to spend a week in Ocoee with the future conservationists of New Mexico, more than a dozen students who are hungry and eager to learn and have a strong desire to work in and give back to our state."
The SWAP students were purposefully selected from Pueblo, rural, and underserved communities across New Mexico to offer them an educational experience they may not otherwise get.
Activities for the students included trips to Hiwasee Refuge Cherokee Removal Park, aquatic organism passage demonstrations on Sina Branch, wild hog trapping demonstrations and presentations at the Catoosa Wildlife Management Area, trout hatchery operations and challenges at Tellico Trout Hatchery, snorkeling and fish species identification in Ocoee River and Daddy's creek, and wildlife habitat management in a variety of different ecosystems found across the Cherokee National Forest and southeast Tennessee. The students also got to observe bears and learn about human-bear conflicts and bear management in the Great Smoky Mountains National Park.
"There is no place in New Mexico that students can get these type of opportunities, and I'm incredibly grateful to the organizers, participating institutions, and public agencies that help make SWAP a huge success," Vasquez said. "We look forward to hosting a group of students from Tennessee next year and showing them every bit of hospitality, educational experiences, and New Mexican culture as our counterparts were gracious enough to offer. These young students are the future of conservation in New Mexico and I'm grateful they had this opportunity."
In addition to the Youth Engagement Grant from the U.S. Forest Service, more than $4,000 was collected in donations to pay for food, lodging, and other expenses to make this opportunity available to students. A donation of more than 40 pounds of venison was also very welcome, as it fed the students for more than a week.
If you want to make opportunities like this available to more students across New Mexico, please consider donating your lightly used gear to the New Mexico Wildlife Federation. 6100 Seagull Street Suite B-105 Albuquerque, New Mexico 87109.
SWAP Student Profile: Mariela Estrada, New Mexico State University
Mariela is from Las Cruces and is majoring in range science at New Mexico State University. Originally an early childhood education major, Mariela was turned on to range science after being invited to hike and recreate on public lands in New Mexico. Now she wants to work on conservation and range science outreach and education in Hispanic communities.
"My favorite part of the SWAP was when we were talking about feral hogs and how people can really get upset when decisions get made too quickly without any input."
SWAP Student Profile: Chasity Gonzales, Highlands University
Chasity is from Las Vegas, New Mexico and is majoring in Forestry Management. An avid angler, Chasity's favorite outdoor activity is bass fishing at Conchas Lake. After college, Chasity wants to focus on water conservation issues in New Mexico and the Southwest.
"Coming on this trip changed my mind about what to do, and I think I want to focus on water. My advice to students in New Mexico would be to take as many opportunities as you can and venture out and make new connections with people. I hope I get the opportunity to stay in New Mexico and work locally to help solve water issues."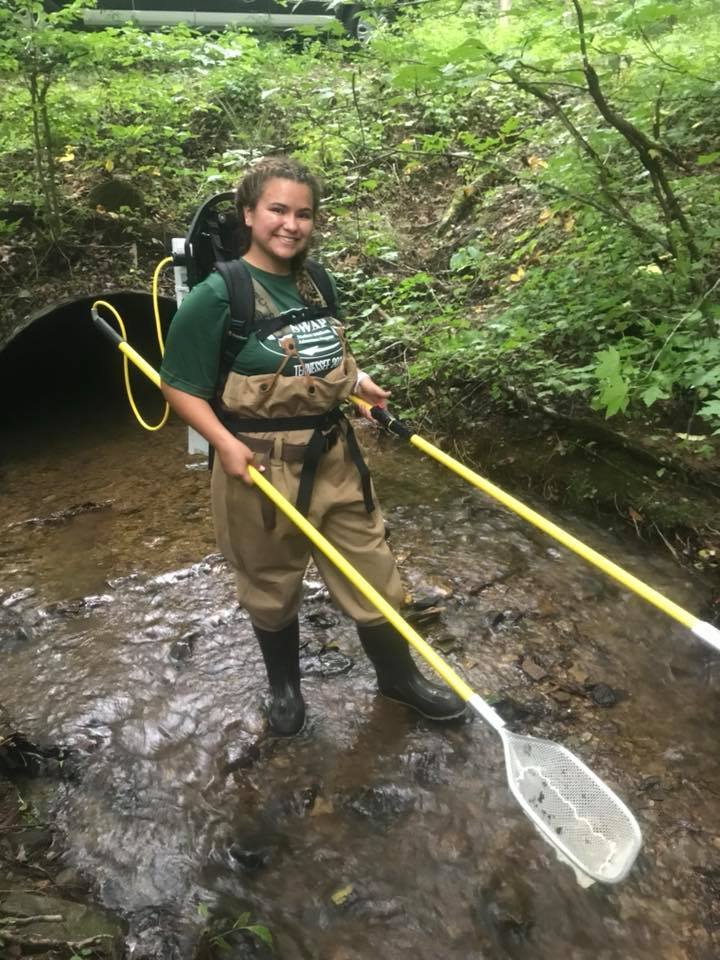 SWAP Student Profile: Pedro Muñoz Jr. , University of New Mexico
Pedro is majoring in Native American studies with a minor in management and wants to make an impact on water and natural resources conservation in New Mexico and beyond. Pedro applied for the NMWF/USFS/Cleveland State CC program to get a different perspective on conservation issues in another state.
"So far, snorkeling in the Ocoee River and seeing the bears in the Great Smoky Mountains has been my favorite part."
SWAP Student Profile: Charlene Juanico, New Mexico State University
Charlene is from Zia, Acoma, and Jemez Pueblos and is majoring in wildlife conservation and administration and public policy.
After college Charlene says "I want to make a change. I want to go to our Pueblos and protect the environment and wildlife. I want to be able to gather the youth and teach them about hunting and conservation. And I want to branch out to other Tribal areas and expand my work beyond New Mexico."
SWAP Student Profile: Serena Natonabah, Colorado State University
Serena is Navajo and is majoring in human dimensions of natural resource management and is pursuing a career working with Native youth education. She's worked as a mentor for two different Native youth camps to get youth excited about STEM careers.
"My favorite part of SWAP was visiting Cade's Cove at the Great Smoky Mountains National Park and learning about bear management from NPS wildlife technician Ryan Williamson."
SWAP Student Profile: Felix Yepa, Colorado State University
Felix Yepa of Jemez Pueblo is majoring in natural resources and environmental economics with a minor in global and environmental sustainability. Before joining the Student Wildlands Adventure Program, Felix was in the Arctic working on a research project to examine ecosystem responses to climate change.
"I would like to get my degree and find a job working in New Mexico that can impact my family. I want to focus on wildlife and resource management in Jemez so that it can be stronger than when it was before and resilient to fire. I would like to restore our historical sites and build a cleaner Jemez."