Most people don't equate "fly fishing" with "competition," but in fact there is such a thing – highly orchestrated contests between individuals, teams and even countries to see who can catch the most fish in a given period of time.
And when the World Fly Fishing Championship starts this fall in Vail, Colo., New Mexico native Norman Maktima will be among more than 100 elite anglers from all over the world trying to land the gold medal, both individually and as a member of the U.S. Fly Fishing Team.
Maktima's amazing journey as a Native American kid growing up along the Pecos River to joining the top ranks of international fly fishing started nearly 30 years ago, when he was 7. His parents – his father, Duane, traces his ancestry to Laguna Pueblo and Hopi Pueblo; his mother, Janice, is from San Felipe Pueblo – loved fishing and camping. Growing up, Norman got to travel and fish all over the West, from New Mexico and Arizona north to Yellowstone and Montana. That varied fishing background would come in handy later, he said.
Early on, he and his father were members of the Sangre de Cristo fly fishing club. "My dad and I were learning basically together," and their home base was High Desert Angler, a fly shop in Santa Fe. Because of the Maktimas' connection to the shop, its owners and its crew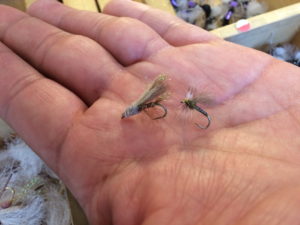 of guides, "I had a lot of mentors," Norman said.
By the time he was 17, Norman was an accomplished angler. To boost his skills further his father enrolled him in a two-week fly fishing camp in Montana, which changed his life. "When I got home, Jan Crawford (then-owner of High Desert Angler) got wind of it and asked me to start working in the shop." He jumped at the chance.
Meanwhile, competitive fly fishing was in full swing across the Atlantic. When two people fish together, it's just human nature to see who can catch the most fish, or the biggest fish, or the first fish, Maktima said. In Europe, where fly fishing began nearly 2,000 years ago, that competitive drive got formalized in the mid-20th century and was starting to mature when Maktima joined the crew at High Desert Angler.
The competition is regulated by the Fédération Internationale de Peche Sportive Mouche, or "FIPS-Mouche." The organization formed in 1989. Its aim, modeled after the Olympics, is to encourage the practice of fly fishing worldwide and to "foster friendship and understanding among all people, and peace in the world, through sport."
In contests, the anglers are split into five groups. They typically fish at five different venues per competition, Maktima said, including both lakes and streams. Each venue is divided into beats, and every angler must fish their beat at each venue for a specific period of time. With controllers assigned to each angler, points are awarded for each fish 20 centimeters or longer (about 8 inches) that is landed, with extra points for each additional centimeter beyond 20.
To make the competition more demanding, anglers are restricted to rules on rigging, such as no strike indicators or adding weight to their leaders. "So you're watching your line or feeling for the strike," Maktima said. "Not many people fish that way anymore, so it's very, very intense."
Although anglers compete directly with those in their group, at the end of the competition – whether it's a contest between clubs or nations – whoever has the least "placing" points wins.
That system was well in place by the time Maktima started working at High Desert Angler in 1997. Then came news that, for the first time ever, there would be a World Youth Fly Fishing Championship. Norman applied, and based on his angling background, recommendations, interviews and skills, he was invited to join the national team.
Amazingly, another native New Mexican, Nick Streit of Taos, also applied and was chosen. Together, Norman and Nick won two of seven slots on the first national youth team and went together to the world championships in Wales the following year.
While competitive fishing was new to him, Maktima said his New Mexico background served him well. "As a competitor, it's your ability to find fish in any situation, whether they're spread out in a pocket or in pods of stocked fish." Depending on the weather and time of day, the water might be high or low, cloudy or clear, warm or cold. "It comes down to whatever you can do to find fish and not blank" – fail to catch a single fish in a given beat.
Maktima made quite a splash in the youth world championships in 1998, taking an individual gold and helping the U.S. team come in second place. After that first taste, he said, "I've been chasing the gold ever since."
He eventually joined the adult team and has been fishing competitively for most of the last 17 years. Over that period, he has seen Fly Fishing USA evolve into a much more competitive force, he said.
"The team decided it wanted a competitive edge, to get out of that category of, 'Hey, we're just here to have fun.'" The youth team was a first step, and it's now bringing fresh talent into the ranks, Maktima said. And the adult team is now composed of anglers who won places by their skill rather than their connections.
It seems to be paying off. Last year, Fly Fishing Team USA placed second in the world championships, its highest finish ever. Maktima hopes to help propel the team onto the podium again in Vail, but this time with its first-ever gold.
Team members are not paid, so Maktima still earns his living as a guide. He's also a "signature fly tier" for Umpqua, the fly manufacturer, and helps run his longtime haunt, High Desert Angler.
But despite the apparent contradiction in terms, "competitive fly fishing" is something he loves. "It's not for everybody," he said. "I love fly fishing on my own, and I love to teach people. Competition has allowed me to be on the forefront" of the fly fishing world, where he has been a professional for almost two decades. "It's that next level that is keeping me interested."
He admits to having a competitive streak, but whether it's running or fishing, Maktima said, "It's competition against myself – how can I build myself to be a better angler, to be more efficient, to understand what I'm doing and why I'm doing it."
As a member of Fly Fishing USA, he learns from peers who are at the top of their game on the world stage. One example of that level of fishing, he said, was a video taken by the Japanese team of one of the best competitive fly fishermen in the world, a Czech.
"He's nymphing but watching the rest of the stream and you can see him spot a fish. It takes him 45 seconds to change his rig to a dry fly, catch the fish and net it. That's what I mean by being efficient and proficient."
Forty-five seconds!
Maktima is no slouch himself. He can tie on a new fly in five seconds (using a Davy knot). "After 18 years of tying thousands, maybe hundreds of thousands of knots, it's second nature," he said. "Usually I can do it well enough that I don't even have to clip the tag."
Since his gold medal 17 years ago, Maktima has fished in seven world championships and finished as high as sixth. And each event has been informed by his New Mexico upbringing, he said.
"New Mexico is tough to fish." Waters range from tiny, high mountain streams to the San Juan River, from the rough-and-tumble Rio Grande Gorge to the mellow tailwaters of the Chama. And they're not very close to one another.
"When you travel that far to fish, you're pretty much stuck there with whatever the conditions may be," he said. "It's not like Colorado, where it can be just a short drive to something better. And that's been an advantage in a lot of competitions."
When he's not guiding or competing, Maktima said he still enjoys fishing by himself, though he typically dedicates part of the day to practice – to see how many fish he can catch in one short stretch of water in a small amount of time. He practices his knots and changing rigs, reading the water, increasing the percentage of fish he lands.
When he goes to Vail in September, he will take as many as a dozen rods and half a dozen reels, with extra spools for each of them. But his real strength is his experience. "After 18 years, I have a pretty deep bag of tricks," he said. "It's all the nuance that makes the difference between a good angler and a really great angler."
Yet competition is not the only thing on Maktima's mind. "I'm always trying to get involved with youth," to encourage them to fish and get outdoors – to get hooked on the natural world. He's especially eager to work with Native American kids, he said. He has volunteered his time to introduce youngsters to various aspects of fishing, working at Santa Fe Indian School, Santo Domingo Pueblo and Cochiti Pueblo. This summer, Santo Domingo has essentially hired the entire High Desert Angler guide staff to teach pueblo residents to fly fish, he said.
"With pueblo culture, there's a disconnect today between the culture and the environment that developed that culture," he said. "Native American culture is really all about observation. We look at it, we understand it, we know how it works, and from there it grows. For me to teach that back to the pueblo people is huge. I'm loving it so much."